Real Estate Sales Prelicensing Course Live • New AFTER HOURS
CLASS DATES 2017
February 6 – February 18, 2017 (Completed)
April 17 – April 29, 2017  (Completed)
July 17 – July 29, 2017 – Register Now (Completed)
October 16 – October 28, 2017 (Sold Out)
Classes Schedule:
Week One: Monday, Wednesday, Thursday, 4:30-9 PM • Saturday 9-4.
Week Two: Monday, Wednesday, Thursday, Friday, 4:30-9 PM. Class Final Exam Saturday 8-12.
Cost: $895.00 includes books and materials.
PLEASE NOTE: You must attend every class and pass the class final with 70% to pass the course. Independent Study of no less than two hours to prepare for the lessons the following night is part of required class hours.
---
The State of Hawaii requires passage of an approved sales prelicensing course of at least 60 hours prior to taking the State of Hawaii real estate sales licensing exam. General real estate licensing information can be found on the state website http://files.hawaii.gov/dcca/reb/real_ed/gen_info/blue.pdf. You must be 18 years old by the exam date.
The course features:
Live lecture, PowerPoint, Discussion. Quizzes to assist you with evaluation and test taking skills. Home study to prepare you for each class. Review of material for the Course Final and State of Hawaii licensing exam.
Textbooks and materials are included in the price of the course. An optional audio download is not included but available. The cost of the course and materials is $895.00 plus tax. Payment must accompany registration. No refunds will be given.
The approved course curriculum covers the following topics:
Real Estate Licensing Laws
Ethics and Real Estate Regulations
Nature and Description of Real Estate
The Law and Real Property
Encumbrances, Easements
Tenancy and Ownership of Real Estate
Condominiums, Cooperatives
Planned Unit Developments and Timeshare
State Land-Use Controls and Property Development
Agency
Real Estate Contracts
Hawaii Standard Forms

Real Estate Financing Principles
Real Estate Financing Practices
Real Estate Valuation and Appraisal
Real Estate and Other Taxes
Tax Liens, Interests in Real Estate
Closing the Real Estate Transaction
Commercial Real Estate Management
Leasing and Sales
Landlord – Tenant Code and Residential Property Management
Fair Housing Laws and The Americans with Disabilities Act
Environmental Issues and the Real Estate Transaction
Mathematics
Passing the Carol Ball School of Real Estate sales course requires attendance at all of the classes and passing the class final with at least 70% on the Uniform portion of the final as well as 70% on the Hawaii portion of final as prescribed by state law.
The state of Hawaii licensing exam is held on Maui several times a month and is provided by PSI for the State of Hawaii. The fee for the exam, paid to PSI is $68.00.
The class is fast paced and requires exclusive focus on the course material for the duration of the course period. Completion of Independent Study assignments to read new material prior to coming to class is essential to success in the course. Attendees should be prepared to give the course their top priority.
Students Work Hard Play Hard
"Victory"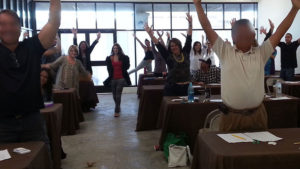 LIVE SALES

PRELICENSING

CLASS 2017
October 16 – October 28
Sold Out

Classes:
Week One: Monday, Wednesday, Thursday, 4:30-9 PM Saturday 9-4.
Week Two: Monday, Wednesday, Thursday, Friday, 4:30-9 PM. Class Final Exam Saturday 8-12.
NOTE: Daily Attendance and Nightly Independent Study Homework Required
Cost: $895.00
Payment MUST Accompany Registration • NO REFUNDS

CLICK THE BUTTON TO REGISTER. PAYMENT MUST ACCOMPANY REGISTRATION.
---
Have a Question?

Call Keone Ball (R) at (808) 357-4092 or use our convenient Contact Form.