LIVE Real Estate Sales Prelicensing Course Delivered by ZOOM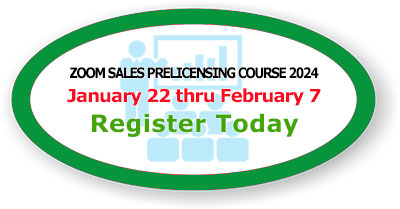 Take the LIVE Prelicensing Course From Anywhere
Maui, Oahu, Kauai, Big Island and beyond!
January 23 thru February 8, 2023 –

Registration Closed



April 17 thru May 3, 2023 –

Registration Closed



August 14 thru August 30, 2023 –

Registration Closed



January 22 thru February 7, 2024 –

Registration Open



January 22 thru February 7, 2024


NOTE: This class was postponed from November 2023



Carol Ball School of Real Estate has created a live Real Estate Sales Prelicensing Class utilizing the materials and features of the classroom course that successful real estate agents have used to prepare for their careers. The course will be presented live and delivered to you through ZOOM on your computer. Keone Ball is the course instructor and will teach each class live. Books and materials are distributed on Maui only. Off island students will receive books by mail and pay additional shipping and handling of books, invoiced separately.
IMPORTANT: You must have a computer with camera to enable ZOOM through which the course will be delivered, live. Audio required for interaction.
Class Schedule
Daily
Directed Immersive Reading of assigned topics to be read prior to class.
Class Hours
Week 1 Monday-Friday 4:30-9:00. Saturday 9:00-1:30. Week 2 Monday-Friday 4:30-9:00. Week 3 Monday-Tuesday 4:30-9:00. Class Final Wednesday 2:00-6:00. 150 questions. You must pass both National and Hawaii sections with at least 70% and attend all classes to pass the course and receive Completion Certificate.
Over 120 hours of instruction through directed reading, lecture, PowerPoint, Q & A discussion, small group discussion, class drill activities, daily quiz, review. Focused review for class final. Proctored 4-hour final exam.
Daily directed reading required of course material before each class.
Book Pickup Monday the week before class starts – Maui only. Books will be mailed for off island registrations and invoiced separately for shipping and handling.
Price $895 plus tax includes books on Maui only. Shipping and handling extra for off island registrations. Call for more information. No Refunds once classes have started.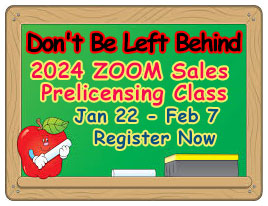 MINIMUM 10 REGISTRATIONS REQUIRED TO HOLD CLASS.


CLICK THE BUTTON TO REGISTER. PAYMENT MUST ACCOMPANY REGISTRATION.
---
Have a Question?

Please use our convenient Contact Form.